Change.org made a major announcement Thursday in response to Obama's call for public service: Jobs for Change.  This is to be a hub and marketplace for social change jobs that they've created in partnership with dozens of nonprofits including: Young Nonprofit Professionals Network, AmeriCorps Alums, Echoing Green, Network for Good, and Encore Careers.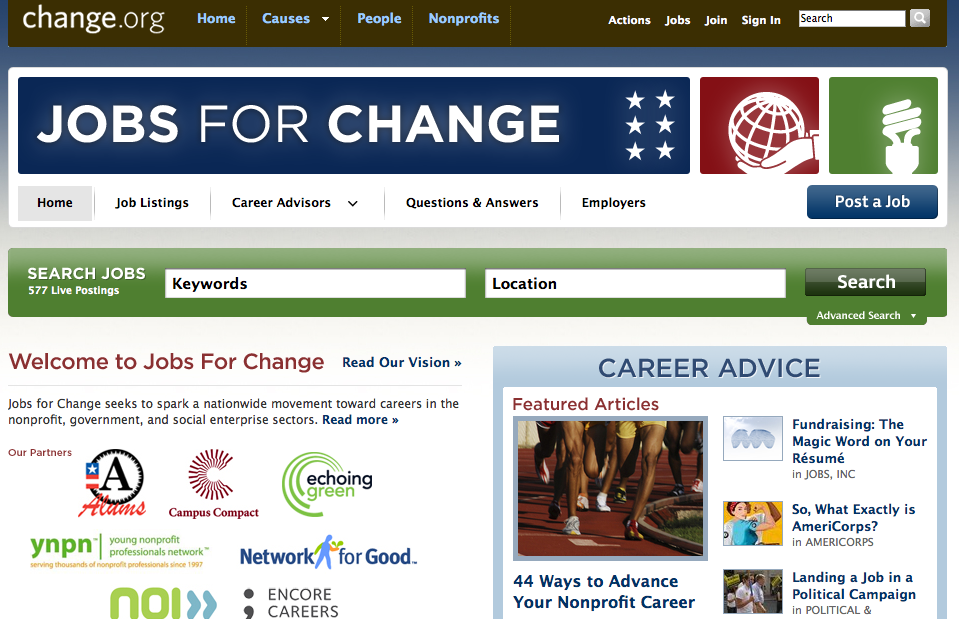 The goal: Spark a nationwide movement toward careers in the common good – including nonprofit, government, and social enterprise jobs. (Cross-Fertilization–> This makes me especially happy!)
Status: Currently, Change.org is building a huge database of social change jobs with their partners and have just hired a team of career advisors who will be blogging every day to provide guidance on finding and developing a career in social change, including Rosetta Thurman! (Mentors, resources and role-models….even better!)
Now What? Besides just checking it out and getting some good food for action, Change.org is also reaching out to like-minded bloggers and non-profit leaders to spread the word–specifically by signing a statement to endorse the vision. If you think this sounds pretty sweet….then join me (and @mikekujawski @engagejoe @mindofandre @bbravo and many others in signing.
Some Highlights of the Vision:
People are the most important factor in advancing social change.
To attract leaders, we need to enhance the social sector's ability to recruit, develop, and retain talent.
Innovative businesses should join as partners with nonprofits and government in the pursuit of social good.
Thanks Change.org for providing an avenue for people to cultivate their passion with their purpose for effective, long-lasting and positive change.
(For the record, I currently have no relationship with Change.org other than being a member of their community…I jam ust that impressed with 1) their blogger outreach strategy anf 2) the actual product/vision behind this initiative.) =)