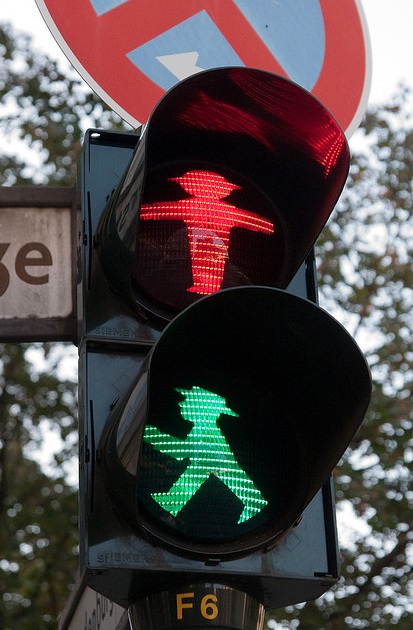 Change can be a stop-go process, and sometimes, you feel held at yellow for what seems never-ending. On the social marketing list serv, someone recently asked–in so many words–How do you make change happen? You might have this question (I know I've asked it plenty of times myself). Today, I'd like to share with you the "traffic light" approach.

In the email, the inquirer specifically wanted to know how to use the concepts and social marketing framework to influence one's staff and motivate them in their work for change? One of my favorite social marketers is Mike Newton-Ward. Thus, when someone pointed to Jay Kassirer 's Tools of Change website and the case study Marketing Social Marketing in North Carolina Public Health–my ears perked up.
The case study shares the journey of how social marketing was adopted by North Carolina, but my favorite part is in the notes section where the author describes the process of change in terms of a traffic light:
We've learned to take a 'traffic light' approach to introduce social marketing very gradually, rather than a 'race car' approach where change is presented suddenly. For example, if you're in your city and the department of transportation is getting ready to put up a new traffic light. They don't just put up the traffic light and turn it on and you stop one day. They start out months before putting up a sign that says, "Warning, there's going to be a traffic light here." Then finally they put it up and it just blinks for a while. And then finally, they put up the sign or the light, so that by the time they do that, people are used to the idea. This approach helps staff acclimate to a change in their way of doing things.
In a world of instant gratification, patience and perseverance seem like words from the stone ages. But they are important for a reason. Persevering doesn't mean doing nothing–it means learning, absorbing, and evolving. If given a red or yellow light, we should be looking for the little signs pointing the direction along the way. Or, thinking about the little ways we can influence a behavior, belief or attitude at any turn in the process–even if it's our own. Because, eventually, the light turns green. Persistence–this is how change happens.
The authors of the case study talk about how to make change happen within an organization, but there's some core take-aways for anyone working to make change.  Read more lessons learned on the Tools of Change website.
flickr credit: maartmeester