Words of the Year for 2008: What's Yours?
2008 was a big and busy year, can you imagine having to choose just ONE word to describe it? Just ONE?!? Some of our favorite sources share what their "Words of the Year" are below:
*************
New OxFord American Dictionary: hypermiling. According to the Web site, Hypermiling was coined in 2004 by Wayne Gerdes and means "to attempt to maximize gas mileage by making fuel-conserving adjustments to one's car and one's driving techniques." In 2008, with the soaring gas prices, many of found ourselves "hypermiling" or just miling…by running/walking on our two legs to work!
Merriam-Webster: Bailout. Does this one even need describing? According to the Web site, "bail out" is defined in Merriam-Webster's Collegiate® Dictionary, Eleventh Edition as "a rescue from financial distress." In 2008, the word received the highest intensity of lookups on Merriam-Webster Online over the shortest period of time. Other contender's in Merriam-Webster's top ten include: vet, socialism, maverick, rogue, misogyny, turmoil, trepidation, bipartisan, and precipice…All so positive sounding, don't you think?
The New York Times. The Times, on the other hand, has chosen it's set of "buzzwords" for 2008. These words include "Obamanation," "Frugalista," "Staycation," "DigitalCliff," "Fail," and many others.
Webster's New World Dictionary: Overshare. With popular votes taken and input from their editors, overshare was this year's choice. According to the Web site, "overshare" is a verb that means to divulge excessive personal information, as in a blog or broadcast interview, prompting reactions ranging from alarmed discomfort to approval. In 2008, with information-mania and the economic problems as well, overshare can have stand for a plethora of meanings and correlations.
Global Language Monitor: Change. The other two in the top three were bailout and Obamamania.
SocialButterfly's 2008 Word of the Year: Influence. For better or worse, as a buzzword, an academic concept or in terms of personal reflection, the word influence was spoken of, talked about, measured, desired, hated, calculated or loved. Thus, for me, the term "influence" describes 2008. (Web 2.0 was a close second, but that term has just gotten…grilled well and overdone.)
Twitter. In Twitter style, I asked SB follow-ers what their word for 2008 would be. One the respondents even mentioned that "Twitter" would be their word for the year! With the spike in news (and usage of Twitter) increasing daily, seems to make sense.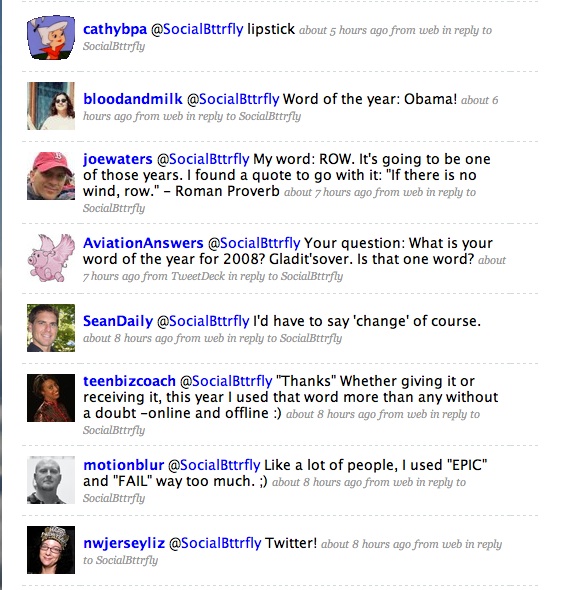 What do you think? Do you think these words say "2008?" Look forward to reading in the comments, what you would choose as your 2008 Word of the Year? Or, you can be like the American Dialect Society, and wait until January to reveal. They are taking nominations now. =)
Illustration by Jessica Hische
Liked what you read? Feel free to share with others: