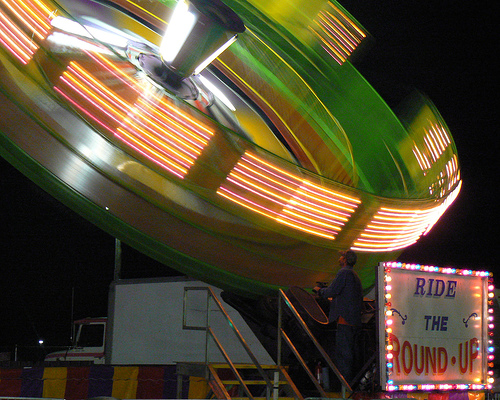 I've called these round-ups by different names, but the concept is the same–share some of the recent links, resources and info I've been reading about social change, social marketing and social media. Now that I've finally switched my RSS reader from Bloglines to Google Reader, I find myself there a lot more–even more so than Twitter (gasp). Thus, let's get on with the show.
******
Social Change
Industry Forecast: Philanthropy and Social Investing: Blueprint 2010–The great Lucy Bernholz, through her company Blueprint Research & Design and in partnership with Stanford's Social Innovation Review, recently released "the first ever independent annual industry analysis for philanthropy and social investing." According to readers, the forecast is full of insights and revelations regarding the business of giving.
What the World Needs Now–This is a bit of a softer piece, but Mitch Joel of Six Pixels Apart does a great job of inspiring by listing eight areas we should be focusing on and thinking about as we work to change our world for the better. Note: The first item he mentions is that the world needs a "mindshift" — and then points to the happenings in behavioral economics for added insight.
5 Ideas Worth Spreading from TED–Nathaniel Whittemore of Change.org's Social Entrepreneurship Blog is the envy of us all as he got to attend the TED 2010 Conference. If you want to do social change, look at what some of the top thinkers of our time are doing, why they are doing it and how it may influence your own work. From this list, the one that stood out to me was the idea that we need to change our relationship with food. Another, was how Nathaniel describes the moment when Bill Gates spent 18 full minutes publicly sharing his views on climate change.
Social Marketing
Design Thinking and Behavior Change: The term "design thinking" is everywhere–is anyone else noticing this? So, it comes to no surprise that design thinking meets behavior change thanks to social marketeer Craig Lefebvre who recently put together this helpful 17-slide presentation. Skimming through it alone will get the juices flowing about how disciplines can criss-cross, leading to effective change.
Authenticity in Corporate Social Responsibility–I know, you're thinking "CSR is not social marketing." And you're right–Social marketing is bigger. However, I include it here because I see CSR as a rising opportunity for social marketing, and Geoff touches on the reason why–authenticity. More companies want to be more intentional and take CSR from something to throw money at to a sustainable, organization-centric value that has impact. Yes, I know "it depends," but we've been keeping the treasures of social marketing in the realms of "just health" for too long. Why couldn't we take the framework of social marketing and the lessons we've learned and apply it to CSR? We can. If it helps, don't call it CSR. Instead, think of it as more people wanting to do business better.
Social Media and Communications
5 Terms that Signify the Future of Mobile Marketing–Ogilvy PR's Rohit Bhargava shares the five concepts that he thinks will move mobile forward in 2010.
Buzz vs. Facebook vs. MySpace vs Twitter–Jeremiah Owyang does it again and offers a strong breakdown of these four platforms. It's the perfect chart that you can pass along to colleagues who want quick yet extensive information on how these platforms relate.
Can E-Readers and Tablets Save the News?–Not only does this article feature a Missouri J-School Professor (woot-woot!), but the article is deeper than the title suggests. At the heart of it, it talks about online content and digital publishing. Being an e-book reader myself and seeing the expanding number of communication platforms (hello Google Buzz), this article is worth the time to take in and meditate on the value of content and the future role of content vetting and control (via consumers, publishers or media producers).
What about you? What good info have you read lately? Please provide the link in the comments so we can all check it out. Also–if you're in love with your Google Reader like me, here's my public profile. Let's connect.
flickr credit: Benimoto