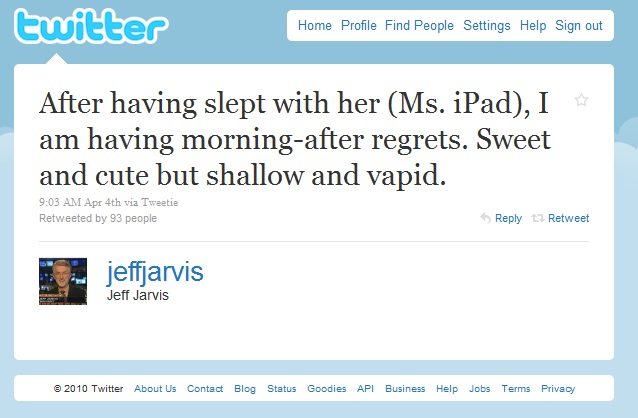 On the social media and tech stream this week, we have the iPad. Despite my thoughts on how the name "iPad" was determined, the iPad draws one's curiosity.
I don't have an iPad nor have I seen one in person, but Jeff Jarvis' review captures two of the bigger implications of this new technology that deserve your attention.
Web sites vs. Apps
Content Consuming vs. Content Creating
I'm not going to repeat all that Jarvis says in his review–I'll let you read his words directly as his points are worth your time and consideration. Instead, I'll add in my own comments.
On Web sites vs. Apps: As mobile marketing continues to grow and evolve across the board (fyi: Mobile Health Conference coming up in May), this will become an ever-greater question. Not just in terms of execution and strategy, but also in terms of analytics. Many organizations are just now getting a grasp on their Web site analytics and how the data can offer insight and direction regarding an organization's overall mission and objectives. The next phase many are working to figure out–is how to measure and assess not just a Web site–but a Web presence. The division between a site-based Web and an app-based Web will throw in another element into the analytics puzzle.
On Content Consuming vs. Content Creating: I may not have an iPad, but I do have the Barnes and Noble Nook. I love my Nook, but I want to do so much more with it. Barnes and Noble, if you're reading this, please borrow a page from Netflix. So, I understand Jarvis' point. As a consumer, there are times when I appreciate that my Nook is an ereader–nothing else. But there are times–where I want more. With the ipad, you have some degree of more–but not everything. Like Jarvis said, you don't even have a camera (which seemed odd to me when the iPad launched). I think there is a need for balance. I don't want another mini computer that I can connect to my email and social networks. I also don't want another phone or a super machine. What I do want–is a relaxing user environment where I have the option to create, share and consume at my leisure on my terms. But then again, maybe I'm not the audience for the iPad. Maybe there are those that just want to consume–and not create or distribute.
Thoughts on Publishing and Content: I find this conversation interesting not because of the Web vs. App conversation or the hardware vs. software talk, but more so because it gets to the heart of publishing and distribution of content. The development of e-readers are changing the world of publishing and how the traditional business-model of journalism operates. Many are hoping, that if done right, it can "save" journalism. But here's the thing: Journalism does not need saving. Instead, it needs pioneering. Perhaps, the "business-model" of journalism is where the rubber meets the road. This is where we need our innovations…  in my humble opinion.
In general, I agree with Jarvis' main point about "implications." How we maneuver down the road of information, communications and consumer-technology, will have implications. This is why, as consumers, it is important for us to know that our choices–where we spend our money, how we relate to information, how we choose to communicate, the type of content we consume and the type of content we produce–carries implications.
Your thoughts needed: Are the iPad, e-readers and tablets the best we can do?
*****
This post was originally going to be the quote of the week–but I couldn't choose just one sentence to highlight as Jarvis' whole article stretches one's thinking.