What Would You Say? Thoughts on Global Citizenship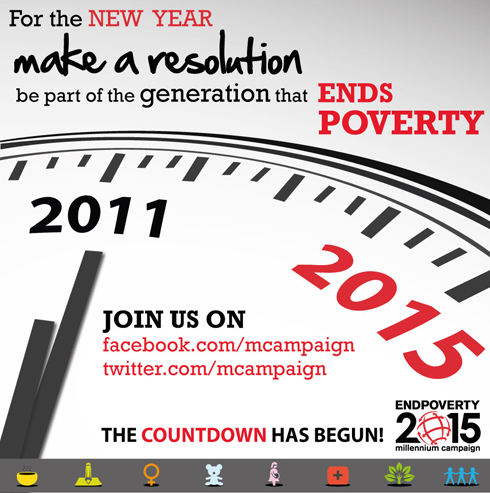 What would you say to world leaders if given the chance? This is the question the UN's Citizen Ambassadors campaign asks us. The campaign is two years running and involves a video contest that "encourages world citizens to voice their opinions to Heads of State and Government and weigh in on the decisions made by the member states of the United Nations."
According to the campaign Web site, the initiative is one in a series launched by UN Secretary-General Ban Ki-Moon. The purpose? To utilize "the power of the Internet and social networking to engage a new generation of world citizens in the importance of international diplomacy."  This is an inspiring charge–but in reality, could be quite difficult in achieving. So, let's break this down.
The Power of the Internet and Social Networking
Over 825 million people use the Internet in Asia as of July 2010. In terms of population, Facebook would be the third largest country if it were a country given its 500 million active users. It's also translated in over 70 languages. Six in ten Americans go online wirelessly using a laptop or cell phone. 86% of adults ages 18-29 use social networking.
Mobile giving raising over $30 million for Haiti relief efforts. Technology saving lives and enabling communication. Community-funded journalism fueled by the passion of citizen journalists and digital storytelling. Random Hacks of Kindness, Crisis Camps, Ushahidi, accessible health data and a slew of additional examples have some dubbing 2010 as "the year citizen platforms grew." Why? Because of the power of the Internet and social networking in facilitating, connecting, empowering and enabling both individuals and communities to better serve a global mission.
Need I say more?
A New Generation of World Citizens
By now, you've probably heard about the "Millenials," those born between 1981 and 2000 as defined by the Pew Research Center. Summed up, Pew identifies Millenials as "Confident. Connected. and Open to Change." The UN is correct–there is a new generation of world citizens who want more, but I don't think it's limited to just Millenials. I think they are referred to as global citizens. Lovisa Williams in her post "Global Citizenship Building Momentum" defines global citizens as:
A Global Citizen is everyone whether they know it or not.  They don't have to know the term or even the concepts associated with the term.  The bottom line is if you live on earth you are now part of an ecosystem that is larger than your village, your tribe, you town, state, province, or nation…Part of recognizing you are a Global Citizen is recognizing you have the world on your shoulders.  You have the responsibility to help advocate for those who don't recognize they are Global Citizens and are also responsible for helping to provide solutions to these issues.
The concept of global citizenship faces its own challenges.  For example, Maslow's Hierarchy of Needs may come to mind. If someone doesn't have their basic needs met such as having food and shelter–is it too much to expect global citizenry? Some may say yes. But the potential of a network of people coming together over shared commonalities wanting to promote humanity–well, if we could achieve that, then just imagine the possibilities.
International Diplomacy
In August 2010, Sec. of State Hillary Clinton announced the State Department's Global Health Initiative, working to improve global health as a way to achieve diplomacy:
I'd like to share with you the next chapter in America's work in health worldwide. It's called the Global Health Initiative, GHI for short, and it represents a new approach, informed by new thinking and aimed at a new goal: To save the greatest possible number of lives, both by increasing our existing health programs and by building upon them to help countries develop their own capacity to improve the health of their own people….

Global health is a prime example of how investing our resources strategically can have an immediate and lasting impact on people, communities, and countries.

There is too little coordination…

There is too little integration….

There is too little innovation…
Addressing global health is now a part of the U.S.' International diplomacy efforts. An important step–is going to be figuring out how to enable and empower the global citizen to play a part in achieving better global health (diplomacy). Our world is growing–but it's also shrinking. We are becoming more connected and more aware of the problems we face and the commonalities we share–how we funnel this awareness into action could make the difference.
When These Powers Combine
Combine innovation mixed with the rising call of global citizenship with the changes happening at the policy level–I dare to be optimistic in saying that change is going to come. The next step? How do we first define global citizenship, then operationalize and expand its mantra? There are glimpses of it–See the U.N. Foundation's Girl Up! campaign or the State Department's Civil Society 2.0 initative–but the concept can go wider and deeper.
So, what would I say to world leaders if given the chance? First, I'd ask them when was the last time they served the humblest members of their communities and what they learned from the experience. My hope would be that shared challenges would be identified and that the  conversation would turn from "What Would You Say?" to "What Would You Do?" And in that, a focus and discussion on global citizenship would take place.
I recently asked some fellow colleagues what they would say to world leaders if given the opportunity. And without any prompting from me–the discussion concluded with an assertion that gets to the heart of global citizenship–We are the world leaders: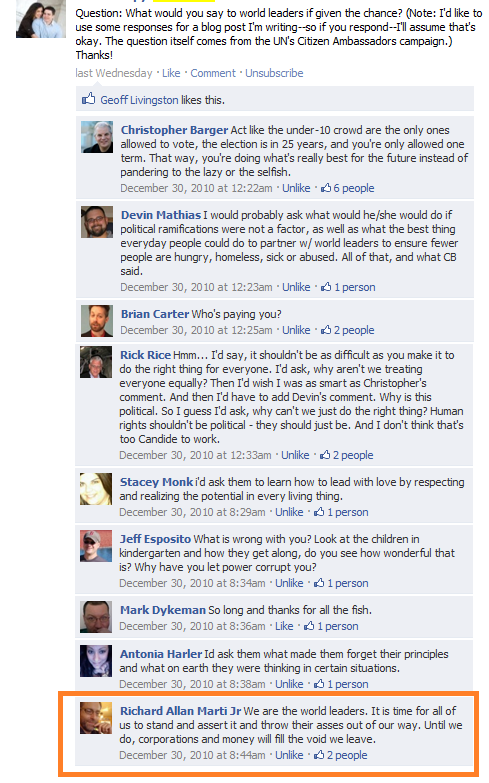 So, What would you say to world leaders if given the chance? And if we are the world leaders, what does that mean?