Just in–Causewired's Tom Watson Will Join Us and #read4change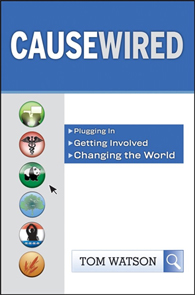 The other week, I announced a new way for us book lovers to connect in a fun and meaningful way–through an online social change book club named #read4change.
After a week of collecting votes, and a battle between Allison Fine's Momentum and Tom Watson's Causewired, Causewired came out on top and will be the first book we discuss.
Bonus
What's better than friends, social media and books? Imagine getting to go to your book club–and the author shows up. That's right. Tom Watson has agreed to join us and be available for our comments, feedback and our questions!
To Participate
Grab your copy of Causewired.
Read and reflect.
Join us November 10 at 8pm EST on Twitter
Follow @read4change and track the conversation with the hashtag #read4change.
About the Book Club
Each month, lovers of books, people and making this world a better place will gather online to discuss a social change-related book–its story, its info and how it can be applied towards our work. Ideas for featured books are always welcome. Email me at socialbutterfly4change[at]gmail.com with suggestions. Until November 10, happy reading!