6 Steps to Choosing the Right Individual Fundraising Platform
This is the first post in my seven-day quest to raise $1100 to provide seven roofs for seven Guatemalan families. In these seven days, I will also be answering your questions and sharing insights gained. This post worked to answer: How did you choose which fundraising platform to use?  So far, we've raised $165–enough for one of the roofs. Please donate and spread the word.
In the #loveroofs project, the first big hurdle was finding the right fundraising platform as there are many out there. In the end, I chose CrowdRise for a number of reasons.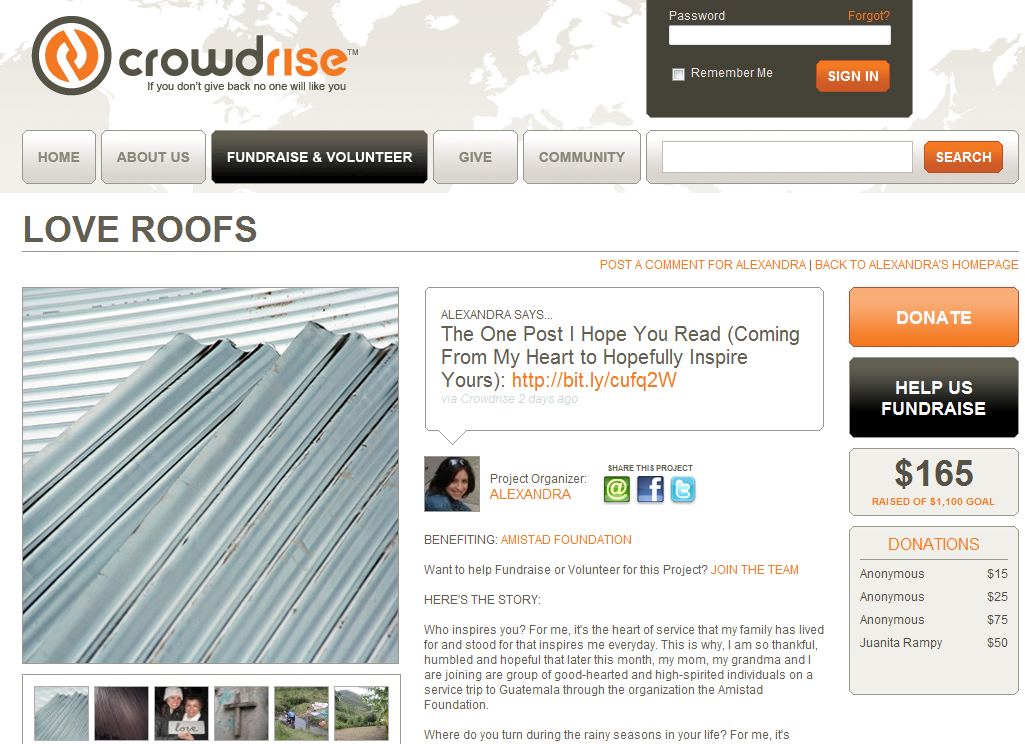 Let me walk you through the thought process and hopefully that helps you if you are planning an individual fundraising effort. If you're with an org, I encourage you to keep reading too–but more on that tomorrow.
6 Steps for Identifying a Fundraising Platform
1.  Research other people's experiences. Fellow changebloggers continue to inspire me in the work they do and how they give to others. For me, I turned to the experiences of Beth Kanter, Geoff Livingston, Stacey Monk, and others. Let's be clear, good research should involve reading about other people's experiences, asking them about their experiences and by participating in them. In other words–it's harder to fundraise if you've never been on the other side as a donor. 😉
2. Identify a cause. This is important. Identifying your cause will quickly help you determine your requirements. For example, large non-profits already have their own donation system like Livestrong for example. Other non-profits or causes may be on certain social networks that will also act as its own fundraising platform. An example of this is Causes and it's birthday fundraising campaigns. Still yet, some organizations have it where you can sign-up for an event of theirs and fundraise around the event like the Avon Walk for Breast Cancer or Special Olympics Missouri.
3. Determine the requirements. The reason step two is important is because not all organizations have their own fundraising platform or on Facebook. This was partially my dilemna. The Amistad Foundation just got on Facebook, but is still working on setting up its cause page. Currently, it's online donation system uses PayPal, which is fine–but it didn't offer some key functionality such as: a) the ability to easily track the funds donated in an open and transparent manner, b) The ability to customize information, add my own text or share images. Granted, I could have set-up my own PayPal account, but another big thing for me was openness and transparency.
4. Narrow down the field. Once you determined your requirement, you need to narrow down the list of fundraising platform options. And believe me, there are a ton out there! For me, I narrowed it down to ChipIn and CrowdRise.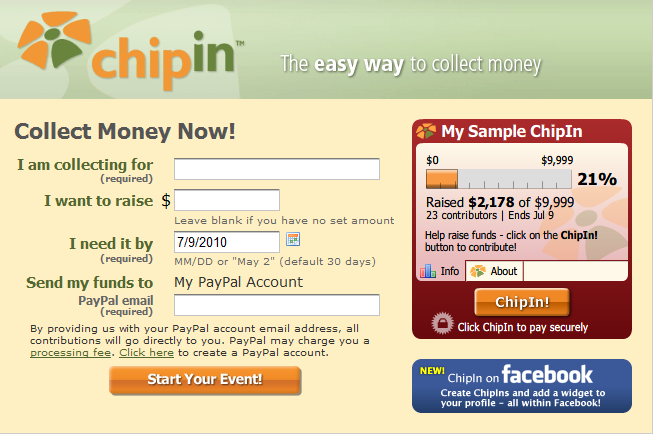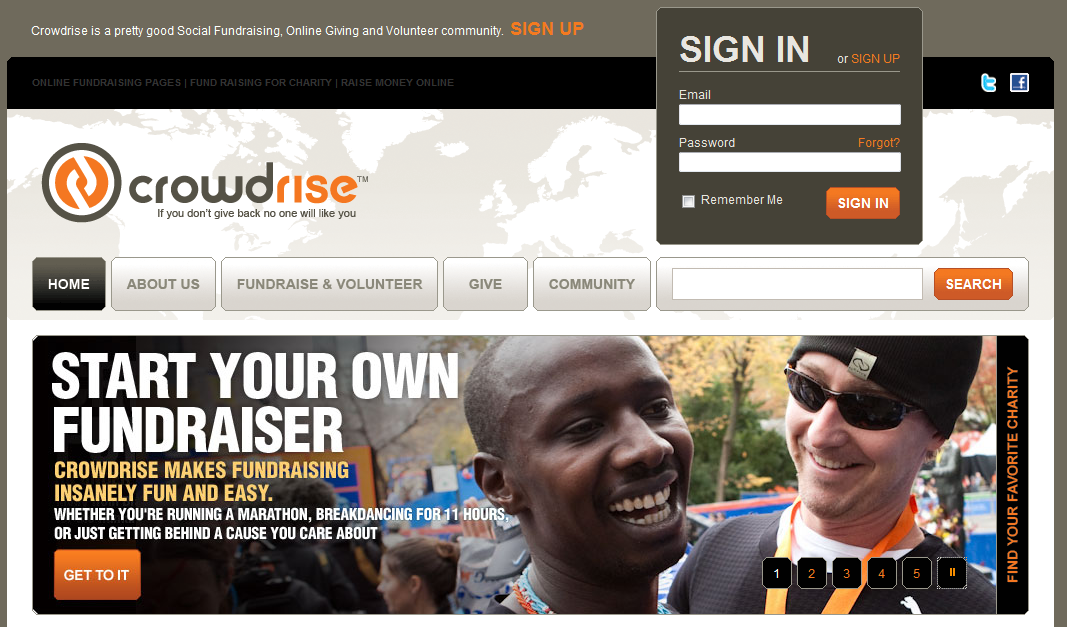 Each of these platforms had pros and cons. ChipIn is familiar–people know about it. It also provides a widget that you can embed on a website or blog, the ability to create your own landing page and the ability to set a goal and track progress–for all to see. However, ChipIn was also connected to PayPal. So, for this to work to me, I'd have to have people to donate to my PayPal account and then give that to the Amistad Foundation. This was an issue–but my third requirement was openness and transparency. Plus, I wanted the process to be easier.
Thus, I chose CrowdRise. Not only does CrowdRise offer the functionality of ChipIn (minus the embeddable widget unfortunately), it also has stronger design, is more inviting and easier to use. Plus, the big one for me, was that it isn't connect to my PayPal account. Instead, CrowdRise already has a huge database of nonprofits that you can start fundraisers for–and wouldn't you know, the Amistad Foundatin was one of them! Granted, Crowdwise takes a 5% processing fee as well as a small transaction fee, while PayPal via ChipIn takes about 3%–the pros of Crowdrise (in my opinion) trumped that of ChipIn as Crowdwise also has viral integration as well.
5. Ask around. As I was teetering between Crowdrise and ChipIn, I asked some fellow changebloggers their opinions. There weren't strong feelings one way or the other, so I went with my gut on Crowdrise. Part of its appeal is that it is a new platform, so I wanted to use it and provide feedback for our community at large. However, looking back, I wish I would have asked YOU guys via a blog post which one you think I should have done. What can you say? Here's to learning by doing!
6. CHOOSE. For me, this was the hardest part. I sat on this fundraising effort for a good 2-3 weeks wanting to get it all just right. I was nervous (still am!), was running all the ifs in my head, refining and refining, and finally, with faith, I chose.
Do you think I made the right choice? What's your experience? And, what other questions do you have?