This is my third post in the seven-day quest to raise $1100 to provide 7 roofs for 7 Guatemalan families!. In these seven days, I will be sharing updates, answering your questions and sharing insights gained. This post provide you with quite the update.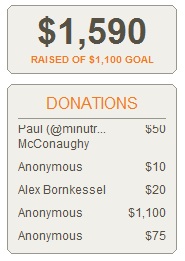 Friday morning, I checked-in with our fundraising efforts and just about fell out of my chair. An anonymous donor gave two big items–a large monetary donation ($1100) and a challenge. The challenge? "7 is a good number but is it possible to shoot for all 14?" Well, what do you say?
The cost for all 14 roofs in sum is $2200. To date, we've raised $1590 and achieved our initial goal of $1100, but could we blow this one out of the park? To reach $2200, we only have $610 left to go. Will you accept the challenge?
To donate, visit: http://www.crowdrise.com/loveroofs.
*And to the anonymous donor–thank you from the bottom of my heart for not just the donation, but also for the encouragement to push farther and do better.