Twitter Follow-and-Fundraise Follow-Up with @ChildFund
Say that title 7-times fast…Recently, I published a post based on my observations about recent "Twitter Follow-and-Fundraise" initiatives and offered "7 Tips" to successfully recruit and retain followers.  My purpose in this article was to bring social change communicators together about this increasing communications tactic to share lessons learned and gain valuable insights to apply to future initiatives.
This post grabbed the attention of friend and respected colleague Geoff Livingston, including his colleagues at ChildFund International who, at the time, were in the midst of such a campaign. Graciously, through conversations via email and Twitter, Geoff and I agreed that it'd be great to have ChildFund International share its experience and thoughts as they develop @ChildFund on Twitter, and establish their rejuvenated brand online. Therefore, I invite you to hear from David Hylton (pictured below), the voice behind @ChildFund's Twitter, in the following interview. Geoff contributed some insights as well.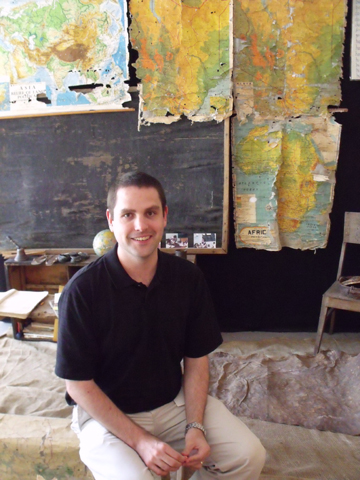 Alex: What are past Twitter-Follow initiatives that changemakers might look-up to gain insights about how to conduct their own strategy?
Geoff:  The one we looked at for @ChildFund was the UNEP tree for a follow campaign. We thought that it was a great strategy to incentivize followers. With that campaign, we (UNEP) had set an ambitious end goal of 10,000 followers, which in retrospect, we think was not realistic given the re-branding of UNEP, our lack of a community manager, and that we were national.
Further, we wanted to give folks something to 1) strive for and 2) to report back to them on so they can see the program in action. So, with UNEP, it was to get us 10k followers. For @ChildFund, we wanted to raise our visibility because as part of our strategy, we had a new name, and we wanted people to know about us and that if they followed us, we would show them specifically what we're doing with the gifts donated by a donor, especially for Twitter followers.  It's a commitment.
Alex:  Using @ChildFund's latest Twitter strategy as an example, what were your initial objectives and how did the use of Twitter help you meet them?
David:  Our primary goal is to 1) launch the ChildFund brand on the Internet and 2) drive awareness of our activity among new stakeholders. We think we're successfully doing that. Keep in mind that in addition to the opt-in follower,s tens of thousands of people are seeing the ChildFund International brand online.
3) In addition, the changeblogger space has noted that we are online. This was also a critical aspect of our effort.  We see other nonprofit bloggers as vital community members that we want to develop relationships with, and we hope we can help some of them in their efforts, too. So from that standpoint, it's been a successful effort.
4) Lastly, but not the least, we want to develop an international community of people online that care about the well-being (I know it's not much different, but as part of our new brand, we must be positive) of children. This is the beginning, and really, people are giving us an opportunity to start a conversation with them, but have not yet necessarily committed to that community.  We hope to be worthwhile additions to their Twitter experience and to evolve that experience into something more meaningful and rewarding.
Alex:  How did @ChildFund go about promoting its Twitter-follow initiative?
David:  We hired CRT/Tananka to develop the strategy, and then used Geoff Livingston to be an initial voice for us. Given a very limited budget, we thought getting someone who was established with an existing community, and some experience dealing with bloggers was the best way to go. And Geoff did a lot with a very limited amount of time and resources available to him.
Alex:  We know it's only been a few days, but what are some initial results of the @ChildFund campaign on Twitter? Overall?
David:  We'll probably have helped out six or seven African communities and their children by week's end. By the end of the campaign we expect it will be in the neighborhood of ten communities. That in itself is great. We want to be up front that the items will be mailed at the end of the campaign. And once the items are received, we're going to post about how the items impact the recipients lives. We want you to see how the money is used and how just a little goes a long way. More importantly, is the new community members we are developing, all the awareness of the new mission and brand name and ChildFund's work with children. Plus, people will get to see our work in action AND participate even further as other elements of our social media effort continues, including the hire of our community manager. This was exactly the right start to something we see as an ongoing activity.
Alex:  In my initial post, I listed "7 Tips" for changemakers to consider if they want to create their own Twitter-follow strategy for their organization. I recognize different organizations have different needs, roadblocks, etc., but what additional tips might you recommend others consider?
David:  The seventh follow-up tip is critical. We're not just trying to get a number count for Twitter followers, we're trying to build something – a relationship. In that regard, we have a long-term plan in mind.
The other thing we'd add is to put a real voice behind the Twitter account. Who wants to follow someone and the only communication they receive is asks for donations and links? Even organizations have people working for them. Make sure a real person is working there and that they can interact with their followers freely.
And for those who are following and supporting us as sponsors or donors and decide they want to engage further with others, we've created a section on the ChildFund Web site that provides that opportunity.
Alex:  Twitter is Twitter. How can changemakers increase awareness of their efforts outside of Twitter?
David:  One of the things you'll notice is that we'll start referring to our blog, or our Facebook page, or videos to report back to the community. Real stakeholders who care about us will want more information and have deeper dialogue. That's where the real social media effort begins, and we look forward to having those conversations with our core stakeholders. And from there, they can get even further involved if they  choose to.
The key is if "they  choose to." By providing opportunities to opt in and permission to engage further via links to other media, a true relationship is forged. And that's how you get beyond 140 characters.
Alex:  Thank you David and ChildFund for your willingness to share with us fellow changemakers. I wish you the best in your endeavours and will be sure to stay posted as I can see just from a quick scan of the new Web site (ps-I highly recommend checking it out based on design alone) that you have many more great initiatives, stories and real change programs in the works. Props to Geoff as well for coordinating and recommending such a great idea!