Tonight: Live Chat About Empathy, CSR, American Idol and More
Quick note: Tonight is our Read4Change Book Club chat via Twitter at 8pm EST. To join us, just follow @read4change or follow the hashtag #read4change.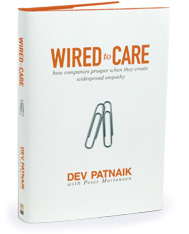 Book: Wired to Care
Special Guest: Co-Author Pete Mortenson
Topic: Empathy + CSR as an Approach to Change
From Chase Bank to Pepsi to now–American Idol, many are integrating social media into their corporate social responsibility and/or their cause marketing efforts. Join us to discus what's working and what's needed–could it be more empathy? Co-author Pete Mortenson joins us to share his insights and the lessons gained from the concept of empathy.
FYI: During our chat, American Idol will be highlighting its latest cause initiative with Idol's Kris Allen and the UN Foundation in Haiti. Thus, it's a book club and a watch party all in one. (#UNFIdol) Hope you can join in on the fun!
********************
Piqued your interest? Learn more about the Read4Change Book Club –including future topics and books.