To Make a Difference, Must You Choose?
Life is full of choices–some more important than others. I started this post about four months ago, and the question remains unanswered for me, so I greatly appreciate your insights.
To make a difference or to bring about the illusive and often intangible "change" …must we choose? What I mean is this: In the non-profit and social change arena, must you choose a cause to rally behind and make your life's work to make an impact? I use to think no. Now, I'm not so sure.
Beginnings
When I first started blogging I was an anonymous blogger. I wasn't sure how it would be taken by potential employers and colleagues. I later revealed my identify. However–I've never quite fully stated in public certain causes I support or the specific "change" that gets me motivated. In our space, must we? Should we?
I don't need to tell you that the line between professional and personal is blurring. I use to think we had to stay middle of the road when it came to personal matters–I thought this was the better route to go. After all, you don't see companies or employees advocating for the causes they care about or beliefs they believe in….or do you?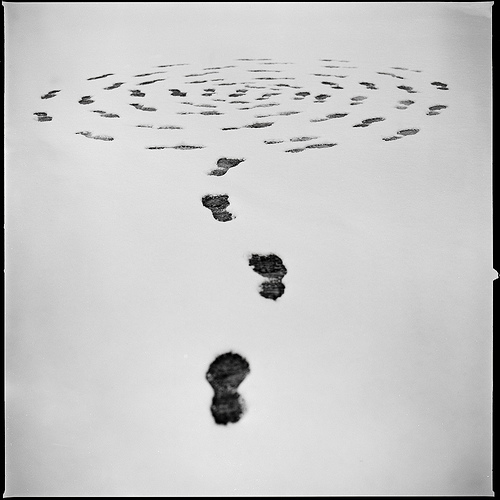 Shifts
I think the pendulum is swinging. More and more, people and organizations are taking a stand. I think, in the future, part of what will make you credible and a force to be reckoned with, is what motivates you and where you take your stand. Remember that quote we were told as kids as we worked to understand our world:
Do not follow where the path may lead. Go, instead, where there is no path and leave a trail.
We all have influence. Why is it–that we as people or bloggers or even companies are afraid to exercise it towards the very things we care most about? Fear is powerful–and it can occur within a person or within an organization. Sometimes, we may not even recognize the role of fear as it may be built in systems and processes we may have little control over. Good news: fear can be squashed and new solutions and innovations can light the way. We should leave more trails, rather than report each others foot steps as a pack hovering together for warmth. Am I off here?
For instance, I'm a Christian. There, I said it. Does that change things? Let's talk about it because I'm tired of not talking about it. How come many of us don't talk about the things that motivate us to get where we are and push us to do our work? What gave me the courage to finally publish this post is that I know I'm not alone in pondering these questions. Thank you to people like Rosetta Thurman and Alex Steed. Read their posts.
Making a Difference
If this is the goal, what does this mean? This is where my hangup is. I feel like we'd all answer this question differently. In terms of my cause-reporting on SocialButterfly, you could say I'm a bit of a generalist with a heavy leaning towards public health. But what about cause-doing? One word comes to mind:
FOCUS.
People who are successful are great at being able to focus. Lately, I've been thinking a lot about verticalization–thanks to friend Geoff Livingston. In the non-profit, government, and even the public health worlds, each has its verticals. As we've matured, more areas of focus have evolved within the realms of "non-profit" and "social change."  I have friends who are passionate about alleviating teenage homelessness. Friends who are persistent in the drive to address climate change. Friends who persevere to find new ways of doing business. Friends who are focused.
In the past, I focused on giving the Hispanic community a voice in Mid-Missouri and got involved in immigration issues. Then I focused on spreading awareness about multiple sclerosis and raising funds for multiple sclerosis research. In four years, I got to be a part of raising over $325k for multiple sclerosis through event planning and grassroots efforts.
Then, to be honest, I avoided "choosing" and this is why. I discovered social marketing–and focused on it because to create change and have an impact, you need to learn behavior changing skills and knowledge. You need to be a student of the evolving strategies, research and tools. This is why social marketing is appealing to me–because it provides a framework to go about influencing change, whether you are passionate about combating human trafficking, decrease drug abuse, ending poverty, eliminating HIV/AIDS, address climate change, increasing the country's health or wanting to increase the rate people in your school wear seat belts–social marketing can light the way. Now, my focus is social marketing. I firmly believe that the process of social marketing can help address many of the battles we face. Yet I'm torn.
Bothered
The more I think about it, the more I'm bothered. Being bothered is good because it shakes you up and makes you question, think and go deeper. Thus, I ask you: To make a difference, must I (or you) choose one cause–one organization–or one group of people–to champion?
flickr credit: angrytoast