The Next #read4change Book is…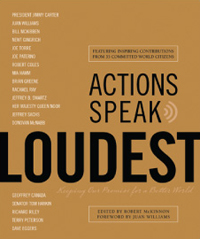 You voted, and now, Actions Speak Loudest by Robert McKinnon will be our next #read4change book. I feel it's quite timely considering my post last week about knowledge, attitudes and actions.
Actions Speak Loudest is a compilation of some of today's greatest doers like Jimmy Carter, Queen Noor, Mia Hamm, Joe Torre and others who are everyday American heroes that make a difference. Together, they look at thirty-two issues, ranging from childhood obesity to climate change, that are critical to the well-being of the next generation–while also providing ideas and ways to take action. All funds raised from sales of the book go back to the causes and organizations featured within its pages.
BONUS: Robert McKinnon will join our #read4change chat. Stay tuned for time and date.
Feeling lost and wondering what the heck #read4change is?
In September 2009, with some inspiration and a desire to create deeper connections with the talented online community, SB launched "read4change," an online social change book club–where anyone can participate.
Using the Twitter account @read4change and the hashtag #read4change–do gooders, social changers, nonprofiteers and the like gather around each month to discuss that month's book and how its relates to our do-good work.
Now, curious about how to get involved?
FOLLOW us @read4change on Twitter.
RECOMMEND a book. Email me at socialbutterfly4change@gmail.com.
VOTE each month on which book we should read. The top book will be chosen.
READ the book or browse our bookshelf to see what we've recently discussed.
DISCUSS the books with us on Twitter using the #read4change hashtag.
Want to help? Just answering these two simple questions helps:
Do you prefer to have a pre-set reading list–or do you like voting on the book each month?
Given the holidays, should we meet for December's #read4change or schedule our next one to be early January?