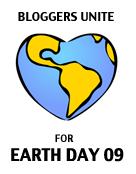 Can you swallow this math?
According to Copywrite, Ink, there were 88,000 blog posts on Earth Day (April 22) that were added to the already existing 2 million written earlier in the week. What's even more amazing? …About 10% of all those blog posts, came from bloggers on BloggersUnite.org.
In all transparency, I'm a participating members in both the BloggersUnite and BlogCatalog communities, and we worked on a project together in the past, but dang—they deserve a big pat on the back for accomplishing their exact mission, harnessing the power of the blogosphere.
As mentioned on the BloggersUnite Earth Day event page, Earth Day 2009 was held April 22nd and also marked the beginning The Green Generation Campaign, a two-year campaign that will culminate with the 40th Anniversary of Earth Day in 2010.
More Green Goodness
One More Thought
So I say again, great job Tony, Rich and the whole BloggersUnite team–and count this posting just one more for the record book! And I ask you, the SB reader, how have you seen blogging communities drive awareness, change and/or action? I have some of my own ideas, but I'm more into hearing yours. =)