Low Cost, High Impact? The Growing Potential of QR Codes
The other week, a woman asked me what she could do with little time and a little budget that would have a high impact. Her question was poignant and just about everyone in the room at the time could relate. Maybe you can. The phrase I often hear is "low risk, high impact." Now however, with budgets being stretched like Mr. Fantastic–the focus is even more so: "low cost, low risk, and high impact." This is a triple threat–that can be quite foreboding. Enter Manor, Texas.
The City of Manor, Texas recently received a Web and technology Gov 2.0 make-over. Dustin Haisler, Assistant City Manager and Chief Information Officer (CIO) for the city provides a mini case study of all the innovations the city has integrated into its programs and services. All of the innovations aim to make the city more transparent, collaborative and participatory, but what caught my attention was the application of QR codes.
The City of Manor developed and launched a QR program providing "physical hyperlinks" from 35 points-of-interest around the community. The price? Free (except for printing).
QR-codes are multi-dimensional barcodes that can be read by barcode scanner applications (such as Google Goggles) that are available on most newer smartphones or that can be downloaded. The great potential? URLs can be embedded into QR Codes, for free and in less than 60 seconds! QR Codes, also referred to as paper-based hyperlinks, tie real-world objects to online content and can be located anywhere–on receipts, signs, advertisements, business cards, products, even Times Square–the list goes on.
QR stands for "quick response," so that when a person comes across one, he or she can scan the barcode with his or her phone and be linked to more information through just a click of a button. For more information, SearchEngineLand lists a number of QR codes generators, readers, uses and over 15 organizations who have used QR codes including The Nonprofit Technology Network (NTEN). NTEN used QR codes to conduct a scavenger hunt at the recent NTEN conference.
Additional examples of QR Codes making a low cost, impact:
Be the One–Save the Gulf Campaign: QR Codes were used to direct people to the campaign's video and to sign the campaign's petition.
The RememberMe's Collaborative Art Project: OxFam and TOTeM supported, this project uses QR Codes on used clothing that point to audio-based stories of where the clothing originated.
Starbucks and Project Red: According to Joe Waters, Starbucks and Project Red are using QR codes on Starbuck's mugs to engage people further in Project Red–highlighting the benefits of the program and engaging others in advocating for it. To me, this one is interesting as it highlights the linear model of viral sharing (one to one vs. one to many or many to many).
Before we get too excited, there are still questions I would love to have us answer:
Do people actually use QR codes?
How much time do people spend reading/scanning the information accessed through a QR code?
What audience groups are most likely to engage in QR codes?
What's the ROI from some of the organizations using QR codes? The examples shared show the quick, easy and neat aspects of the technology. It would be great to see follow-up posts about the results achieved.
With Smartphones having a 21% share of American subscribers, you may want to think twice about if a QR Code program is right for you. However, with Nielsen predicting that 1 in 2 Americans will have a Smartphone by the end of 2011, the potential for high impact is there.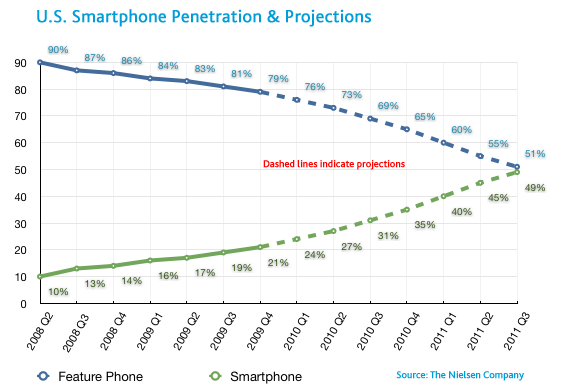 And for now, that may be all you need to know. If you are going about a QR Code program or know of research around these types of programs, please share it with us in the comments. Otherwise, what questions do you have around QR Codes? What am I missing?
flickr credit for photo: scott_bl8ke