Is Anyone Listening to Social Media Anymore?
I feel my current observations beg this question.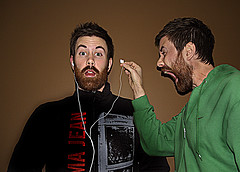 Many are discovering the joys of social media, and as more people are pushing out their materials, whether opportunists or conversationalists, I feel like there is more and more pushing happening, than actual listening, are better yet, engaging.
3 Points of Evidence
The Anti-Fan Movement: The brilliant Geoff Livingston alluded to this very issue himself when he recently recently wrote, "Twitter's incredible growth has caused incredible follower populations and corporate/personal marketing activity. It's also causing a backlash."  In his full post, he also alludes to three other bloggers who also allude to this same phenomenon. Thus, Livingston decided to take action and therefore installed the "Geoff Livingston Anti-Fan Page." According Livingston, the anti-fan movement is for those that "…are tired of follower packs, friend counts, and clamours for social media popularity. (and Livingston is not alone in his thoughts…)
Mark Drapeau (aka @cheeky_geeky) shares this observation based on his post, "SXSW? Forget It," where he reminds us that we biologically can only remember so much mentality. And thus, alluding that the #SXSW tweets alone are so saturated with information by more people using Twitter that it's hard to follow the backchannel conversation. Drapeau greatly reminds us of the important piece of information that we can't remember ALL that information.  He also reiterated one of my favorite quotes: "It's not information overload, but filter failure."
Reverse Networking Effect: This article discusses the "reverse networking effect," that in sum, describes the process that when new people join, others are motivated to leave. I find this true in myself when it comes to Twitter followers. I used to be so excited to get connected, engage and learn from a new person, and now, follow invites are often pushers, those trying to sell or get me to subscribe that I find myself becoming disheartened to some degree. I strongly encourage reading the article as it gives some good brain food to chew on.
What's Your Observation?
Okay, I shared with you mine, and some other people's opinions, what about yours? Do you feel people are still connecting online? Still engaging in that personal, authentic and communal spirit?
flickr photo credit: Orange_Beard