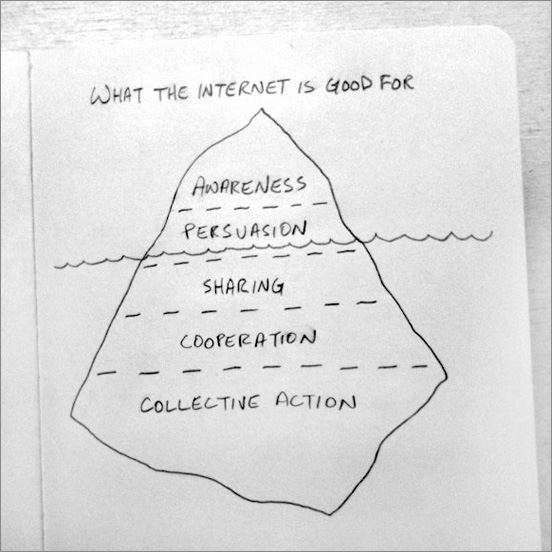 Have you ever been in a meeting and someone tells you: We aren't in the behavior change business, we just want to raise awareness? You are not alone. Put take heart, there are those who know better. Especially in the times of the Web, behavior change–and micro-choices that lead to a great action–are even more possible.
In a post titled Designing for Networks, Mike Arauz captures the potential of the Web–beyond its ability to be a distribution channel, beyond its ability to influence and beyond its use in achieving awareness:
If you only use the Internet in order to raise awareness, and perhaps to influence perception, then you are missing out on what the Web was made for: to enable large networks of people to come together for effective purposes through sharing, cooperating, and organizing collective action.
It might have been okay to work towards just "awareness" in the past, but with today's technology, we can achieve more. I believe that the Web increases our ability to measure, evaluate and influence behavior change. The thing is: Behavior change is no longer on the same playing field. Just like journalism is evolving and the media, the way we influence behavior change and achieve behavior change has evolved. We, as practitioners, must evolve with it. I recently came across another quote that embodies this belief from one of the TurningPoint Collaborative's PDFs, The Basics of Social Marketing:
The process of heightening awareness, shifting attitudes, and strengthening knowledge is valuable if, and only if, it leads to action.
Why do we want someone to know to exercise, eat right, and get their vaccines? Because we want them to act on that knowledge to prevent disease. Why do we want teens to know that drinking impairs their ability to drive? Because we don't want them to drink and drive and hurt themselves or others.
Your Challenge
This week, think about why the Web was won. Sure–it can house knowledge and be a database of information–but it is more and can be more for you, your organization and your cause. Think about your bottom line–What is it you want to accomplish? Solve? Create? End? Start? Because at some level it involves behavior, especially if you are working in a Web environment. Do you want people to click on a certain link, read a certain story, donate to your causes—these are all online behaviors.
PS: Do you like these challenges? Are these helpful? I want to help you in being effective. And, I know I like prompts–do you?