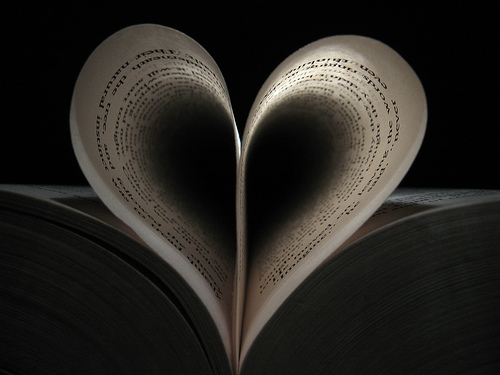 We know there are multiple ways to connect. Offline, on Facebook, within an email, etc. Many of these are quick 140-headlines and/or aren't necessarily in real-time. So, I'm proposing a new way, a less "it's-for-work" or "I-want-to-network" way for our community to interact.
I have an idea.
But it slightly depends on you.
So one question: Like books?
The Big Idea: An Online Social Change Book Club
I just had one of those freakish "ah-ha" moments. Bare with me while I explain…
The idea started forming when my mom told me I should add a page to my blog that talks about the books I read and recommend.

Then, my mom emailed me saying her book club wanted to get a package of books for my fiance and I as a wedding present. Ever since, I've spotted more books I'd like to read.

And better yet, many of you SB readers have been recommending some fascinating titles.
So, Here's how it works:
We meet online (monthly or bi-monthly–you choose) on Twitter using the hashtag: #read4change.
We all throw out suggestions for us to consider. I'll keep a running tab. Each month, together, we'll choose a book using Twitpoll.
Because this is new, we will start, with our first #read4change chat on

November 7 from 11am-12pm EST

.
After each round, we vote on the next book based on everyone's recommendations. A week later, the book is chosen.
Good news–you can recommend a book for the group to read at any time to have it added to the list.
I'm also hoping to create eventbrite invites, just so we all know who's reading along should we want to chat prior to the livechat. If you want added to the list, shoot me an email.
Maybe, down the road, we could even get the authors to join us…
Quarterly, we can get off our bums and do a community service project around reading.
Around the holidays, help donate books….the possibilities are endless!
Let's Start
Here's the list of books for us to consider for the first pow-wow, based on some recent recommendations I've received myself:
Now what? Vote!
Vote on which book we'll discuss first and I'll announce it in a about a week what YOU chose for us all to read and chat about. In the meantime, feel free to also email me book suggestions: socialbutterfly4change@gmail.com. I'll work on getting that page up that my mom told me about. Thanks mom. (I know she's reading.)
flickr credit: Chocolate Geek
Book Images: Courtesy of Amazon