If we are afraid to respond–who will? To call these individuals unsung heroes–is an understatement. The people featured in the documentary Reparanda (trailer below) are warriors of humanity fighting for hope. The hope they bring can't be seen, can't be touched but it can be felt and in Guatemala, the hope is rising.
httpv://www.youtube.com/watch?v=3LGRAiWyu14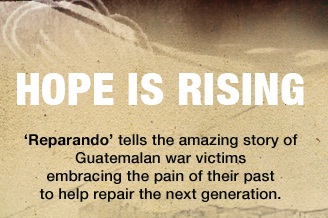 As many of you know, my grandma, my mom and I traveled to Guatemala last June to be fellow soliders in the fight for transformational change in what some think is a hopeless situation. The tragedy is real (10 minutes after we entered a homeless shelter–a man was shot and killed right outside the shelter's door!). But the change is real too–Mother Tita as many often call her has built not just one, but two schools(!) in the largest slum in Latin America located in Guatemala City.
This documentary, produced by the group Athentikos, highlights the work of Mother Tita and some of the people we met on our trip in Guatemala. The people in the trailer–I'm honored to say I've met, I've shaken their hand, I've seen their tears, I've prayed with them and I respect, admire and love them.  Words aren't enough–When people make impressions on your heart–on your being–you can't fully express what that does to you.
Perhaps you've had a similar experience? Some people experience this and start their own company. Some people create a nonprofit. Some people work to tell the stories of those who share in the same experience. Others just do.
Believe in your story. Online, we talk about influence to the point of fatigue. We are all so much more than influencers–We can be changemakers. How will you respond?