#FirstWorldProblems? Tablet Traffic Trumps Smartphones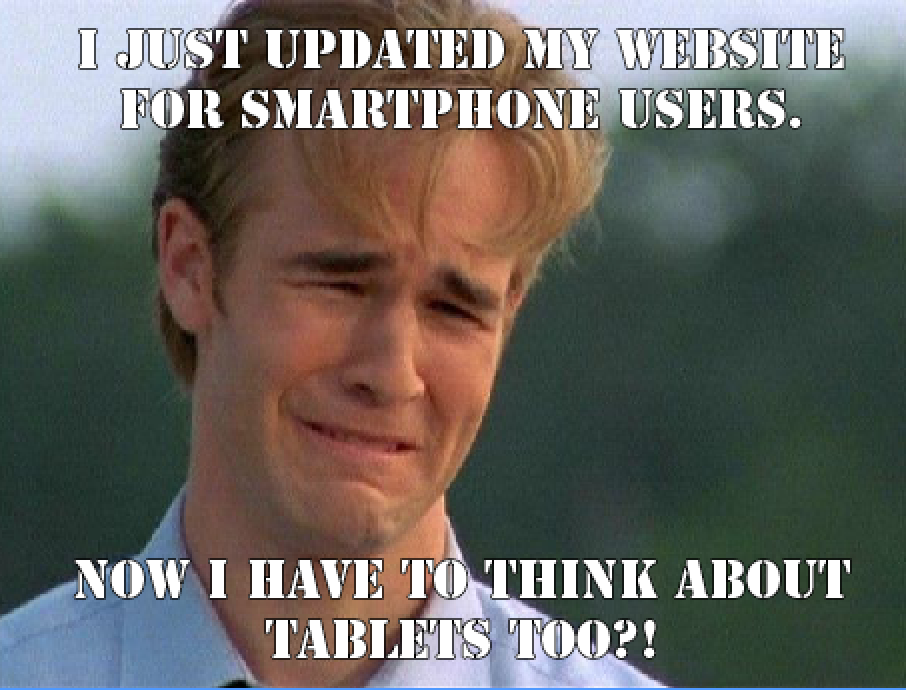 What's your website's mobile traffic breakdown? 
Adobe's Digital Index reports that websites now get more Web traffic from tablets, than smartphones. The findings come from Adobe's review of over 100 billion visits to 1000+ websites world-wide, showing 7% of traffic is driven from smartphones, with tablets edging them out at 8%. The reason? While smartphones are more common, adobe found that users preferred tablets for more in-depth Web browsing.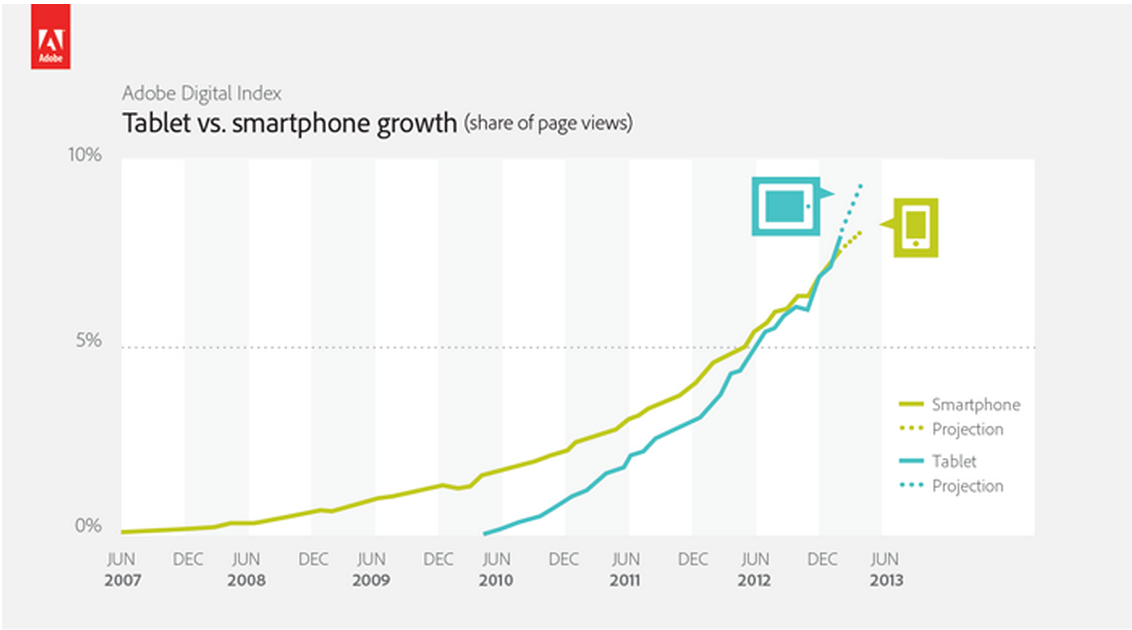 Data Worth Noting
Smartphone users tend to be more task-oriented than tablet users. People use their smartphones while on-the-go, when they are busy and easily distracted. Whereas, tablets might be used for more relaxing and passive behaviors such as reading, watching videos, streaming music, online shopping and Web browsing.
Additional key findings from Adobe's report include:
Internet users in the U.K. are most likely to surf the Web via a tablet. Whereas, Internet users in Japan are most likely to use a smartphone.
All countries saw tablet traffic double this past year (have you?)
Tablets are ideal for "couch shopping". Retail websites receive the greatest tablet traffic out of all industries, followed by travel and automotive.
The key line in Adobe's report prioritizes the customer experience. "Think about it," Adobe advises. "Why do you choose to use your tablet instead of your phone if you have both? What different expectations do you have? Now, apply that to your customer's experience and you may have some tweaks to make in your digital strategy and mobile approach.
The Third World Tablet
When it comes to public health however, you might hashtag #firstworldproblems on this discussion. Not everyone has the luxury of owning a smartphone or a tablet, let alone both. But not so fast…
Late last year, DataWind introduced the world's cheapest tablet at $40, the Aakash 2. Already, the Indian Government has a bulk order of 100,000 in process, with the goal of providing a tablet for every student (eventually). The tablet also debuted at the United Nations:
"We need to do more to help all children and young people make the most of the opportunities provided by information and communications technology – especially all those who are still unconnected from the digital revolution," U.N. Secretary General Ban Ki-moon told SmartPlanet at the unveiling in November.
Will the tablet become a mightier tool for social good? Time will ultimately tell. But while the fanfare continues on the rise of tablets, it's important to understand different realities also exist. For example, take 2013 TED Prize Winner Sugata Mitra. Mitroa saw a problem, and inspired, put computers in the walls of slums. In doing so, he discovered an opportunity for change.
So, the real question is, how are you finding ways to expand digital access and find impact?