As I often like to highlight opportunities for readers, an organization that I admire for their do-good youth marketing approach and mission, DoSomething.org is now accepting applications for the Do Something Awards.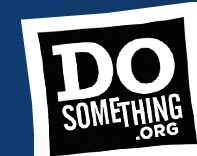 The Do Something Awards have worked to empower and recognize some of the most outstanding young and up-incoming world-changers we know. Last year, the Do Something Awards became the first non-celebrity category of the Teen Choice Awards, which contained 9 final nominees. Each of the 9 nominees received $10,000 for their project and the winner, 19-year old Chad Bullock won $100,000.
This year, 5 winners will receive a minimum of $10,000 in community grants and scholarships, and one will be selected as the grand prize winner, receiving $100,000 in community grants, that can be donated to a non-profit of the winner's choice.
Deadline: See if you qualify, and apply by March 1, 2009
Eligibility: Applicants must be 25 or younger, and be a U.S. or Canadian citizen.
**********
FYI: SocialButterfly's "Events" page is now updated with 2009 social marketing, non-profit, social media marketing and other related events and highlights from around the Web. If there are specific events you'd like added, please feel free to contact me at socialbutterfly4change@gmail.com or @socialbttrfly on Twitter
Liked what you read? Feel free to share with others:
and/or connect with me on Twitter – @socialbttrfly.