Sometimes, direct instruction is helpful. Like when learning how to cook or change a flat tire. But when it comes to learning about social change, I learn best from those that challenge me to think. This includes blogs.
Last night, Debra Askanase of Community Organizer 2.0 tweeted that she was working on a blog post highlighting blogs to read in 2011. In her tweet, she asked for people to share their own recommendations. I shared the following: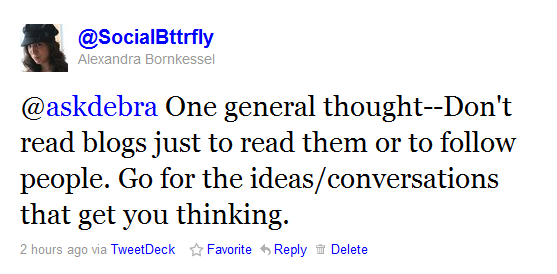 In response, Debra asked me: What are two blogs that get you thinking? Two of the blogs I followed-up with are:
Assetmap: New to the market, Assetmap is the platform that former Change.org's Social Entrepreneurship blogger Nathaniel Whittemore is working to get started. The blog covers the topic on "how social capital is transforming business, culture and social change." Not surprising, its posts give me lots of think about, chew on and explore.
Health Populi: Authored by Jane Sarasohn-Kahn, often takes on complicated topics, events and news and breaks it down by highlighting evidence and data. With  "Health Populi's Hot Points," key take aways are provided that connect the dots of application through added analysis. It also gets me thinking of how the "what" of a news story impacts the "how" of everyday life and work.
Now it's your turn–In the comments, name two blogs that get you thinking. This way, we can give our RSS readers a refresh for 2011.