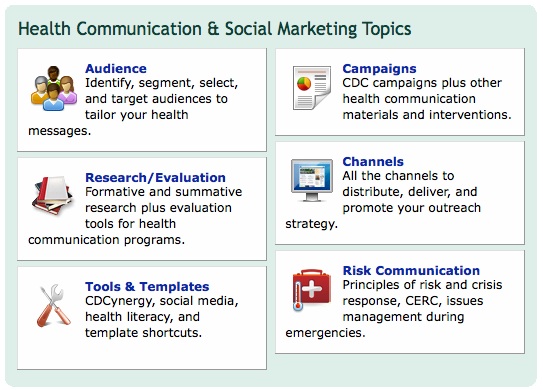 You may have noticed a fun new badge on the bottom right of SocialButterfly. This badge links to CDC's recently launched "Gateway to Health Communication and Social Marketing." This gateway acts as a feeding ground for those looking for resources, tools, templates, case studies and answers to all their questions about social marketing and more. At the very least, it's a starting point.
Part of this new land is a new CDC  Blog–and guess what–you can be the one to name it! Though, CDC isn't the only one with a new blog on the market. Ogilvy PR recently launched their Social Marketing ExChange as well (and started an office in Atlanta–as did AED…). I know I'm not alone when I jump up and down at these new steps in bringing social marketing to bear. Maybe one day, with organizations with this type of umph and leadership behind us, social marketing will be a household name. Or, at the least, recognize-able as a profession.
So, what would you name the new CDC blog? Here are some thoughts off the top of my head:
Push and Pull: Not only does social marketing combine a number push and pull strategies and tactics, but the blog can also serve as a forum for health communicators and social marketeers to debate, discuss, share and "push and pull" insight and information amongst one another.
Influence Health: This is action oriented and speaks to behavior change, but also to the impact and influence social marketing and health communications can have. Influence health could be interchanged with a name like Impact Health or Improve Health as well.
The Power of Health. This is what we believe in–if we improve health, we improve quality of life, and therein, increase happiness (in sum).
Speaking of Health. I didn't come up with this…someone who already commented over at CDC did, but I like it too. I feel it's catchy, frames the conversation for health, is action-oriented and can umbrella a number of topics.
What do you think? What would you name it and why?
PS: For a listing of additional blogs, UNC's School of Public Health has a strong listing of health blogs, and I have a long list of social marketing specific blogs as well.