We are all patients. Yet only 10% of adults have the knowledge and skills needed to understand important information about their health (yikes!).
This edition of the HCSM Review celebrates October's Health Literacy Month by exploring how this issue impacts online health information and the use of health care social media.
Health Literacy Coming of Age
What's in a name? Social marketing isn't the only one experiencing teenage angst in defining itself. Scholars recently conducted a recent review of 17 definitions of health literacy and developed a new definition that "captures the essence" of these definitions found in the literature. Can you believe there were 17 different definitions to begin with?
Taking steps forward. Building upon this review, my RTI colleagues published the "Health Literacy Skills Framework" which includes "information seeking & eHealth" as a critical skill set needed to navigate today's health information. They also share that "the absence of a common definition and understanding of health literacy may have slowed the field's progress in developing measures and conducting solid methodological research."
Recommended reading. Andre Blackman shared this wonderful gem: the recently published eHEALS Health Literacy Scale. The eHEALS is an 8-item measure of eHealth literacy developed to measure consumers' combined knowledge, comfort, and perceived skills at finding, evaluating, and applying electronic health information to health problems. Also shared was the recommended read of the book Understanding Digital Literacies: A Practical Introduction.
Patient demands. A recent Harris Interactive study found that patients want more access to Web-based health services. Emily Zeigenfuse expands on this in her post "The Disconnect Between Patient Expectations and Physician Actions." She discusses the role of communication and how social technologies can help providers more easily transition from acute care to preventative care.
The belle of the ball. Healthcare-related tweets have increased by 51% in 2012! Kristi Eells highlights this and other factoids shared at the recent Health 2.0 conference. From her review of findings, you can't help but see 1) the increased value and demand for health care social media 2) and the need to address health and digital literacy in our use of these tools.
The Fun Stuff
Hacking for health. Over the weekend, Communicate Health hosted their first Health Literacy Hackathon. They highlight the results on their blog. You can even use the winner's end product, Carrots/Stick. Carrot/Stick is a phone-based service that utilizes family and social support to empower smokers to quit. Nice work!
Everyone loves a good inforgraphic. Also of note is Communicate Health's health literacy infographic, We are the 90%! A sneak peak is provided below. Speaking of infographics, Trish Broome explores how infographics can be a health education tool sharing her experience in developing an infographic to communicate flu prevention messages.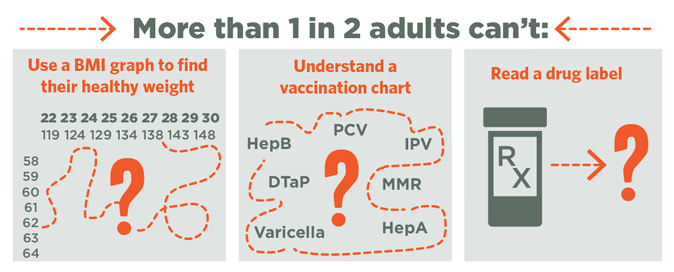 Let's get chatty. healthfinder.gov is hosting its 3rd annual Health Literacy Twitter chat. Using the hashtag #healthlit, join @healthfinder, @HHS_DrKoh, @AHRQNews, @HealthLitMo and others to discuss IOM's recent paper on the 10 Attributes of Health Literate Health Care Organizations. Explore the question: How can organizations help people navigate health services more easily?
Imagineering the future library. With Pew's recent presentation on The Rise of eReading, I couldn't help but note Lucy Bernholz' post on the evolving role of the community library. Knowing the role of libraries in health education, innovative models can and are being developed.
*****
Thank you for all of your contributions to this edition. HealthCare SocialMedia Review  has information about the next edition's host and instructions on how to submit your posts for review in future editions.