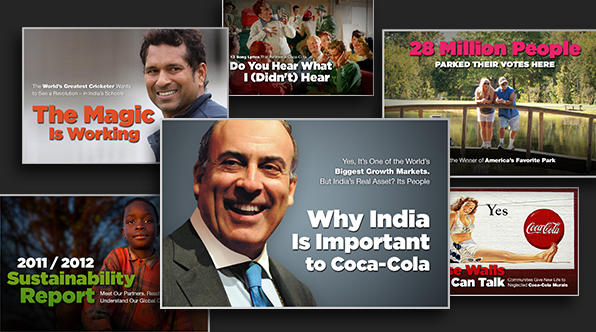 What can we learn from Coca-Cola's marketing and advertising approach? 
Many, including Melinda Gates, have commented on how we in the social sector can learn from Coca-Cola's place-based strategy. Now there's more: the Coca-Cola Journey.
"Today, Coca-Cola is taking its digital communications to a new level," said Clyde Tuggle, Senior Vice President and Chief Public Affairs and Communications Officer, The Coca-Cola Company.  "Coca-Cola Journey is the most ambitious digital project Coca-Cola has ever undertaken, and we are doubling-down on our commitment to be a quality publisher of compelling content."
It is a wow experience.
In his book Platform, Michael Hyatt says that the essence of WOW is exceeding the customer's current expectations. Coca-Cola achieves that with Coca-Cola Journey largely thanks to its smart packaging and display of quality content.
With Coca-Cola Journey,  you experience the Coca-Cola brand, its story and vision within a context that invites you to participate. Rather than provide a standard corporate website, you're offered a dynamic, digital magazine that features original and curated content designed to invite conversation in a creative, welcoming way with a side of intrigue and delight.
Take notes.
Learning from Coca-Cola, here are just four items to consider as you continue to evolve your own digital presence:
1. Prioritize the user-experience. "More than anything, we prioritized what creates a great user experience over the latest design trends," explains Ashley Brown, Coca-Cola's Director of Digital Communications and Social Media. Yet–the site still has appealing design. Think wow, not just what's hot now.
2. Speak visually. As Laura Kisailus of Forum One recently posted, "Visual media reigns supreme…consider the packaging of your content across the social web." Coca-Cola takes this to heart by pulling some of its key data points and shaping them into a visual format.

3. Leverage inbound marketing. One of the biggest shifts in Coca-Cola's web strategy is the strategic decision to be a quality publisher of compelling content. Many marketers see value in this type of shift but only a fraction of organizations have put resources behind it.

4. Create liquid content. Coca-Cola isn't stopping with inbound marketing. They have bet the farm on content marketing with a "Content 2020" strategy. It's mantra: "move from creative excellence to content excellence." Content excellence equals liquid content, creating ideas that are contagious. As evidence, according to Marketing Week, Coca Cola's new approach to creativity and advertising saw it create more than 120 pieces of content as part of its London 2012 Olympic sponsorship activity, compared with just three TV ad executions and six outdoor ad executions for the 2008 Beijing Olympics.
Go 70/20/10.
Watch the videos below on Coca-Cola's full "Content 2020" strategy, especially time stamp 3:04 in the second video to learn more about Coca-Cola's 70/20/10 principle to liquid content. In the comments, share how are you're evolving your content efforts so we can also learn from each other. What barriers are working against you?