Calling All Creative for Good Projects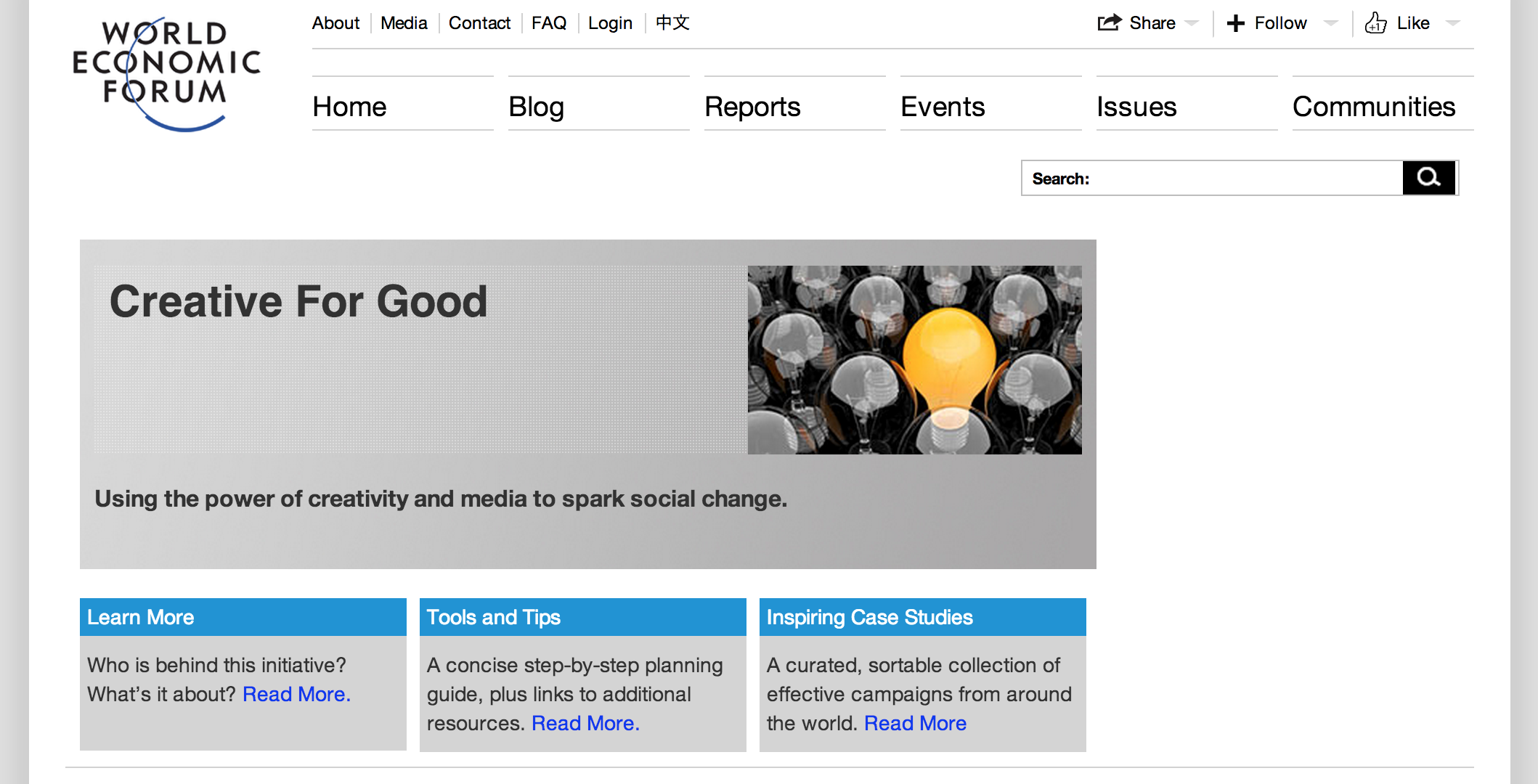 How are you mixing art and science for good?
The World Economic Forum's Global Agenda Council on "The Future of Media" is leading an effort to celebrate and amplify "Creative for Good" projects.  With a number of strong collaborators including the National Social Marketing Centre, The Kaiser Family Foundation, Osocio and others, the call for submissions shares:
As much as world change may be about politics or economics, as its heart it's a creative proposition. It's about insight, engagement and persuasion. It's about ideas that are imagined, communicated and delivered in ways that move individuals, communities and whole societies to change the way they think and act. It's about marketing.
How to Get Involved
Nonprofits, government entities and corporations may submit any "pro-social campaign" that is non-commercial, non-political and that does not advocate for any particular legislation. Some examples are already up on the beta website.
Campaigns eligible
can be across the domain of health, safety, education, the environment, community and social justice issues. They should demonstrate a smart strategy, top-notch creative work, impressive results and have been active within the past five years.
Submit now
. The deadlie is February 15, 2013. Questions about the submissions and the project as a whole can be forwarded to George Perlov, Project Consultant, at george[@]perlov.net.
Creative for Good
This online initiative will serve as a repository of brillant, inspiring and effective public education campaign case studies worldwide, as well as guide organizations embarking on similar efforts. Already, the Ad Council is one of the initial contributors working to add content. Let's hope they give social marketing a nod!
What do you think? Would you use a resource like this?