Call for Submissions: Healthcare Social Media Review #21

How can social media support prevention and wellness?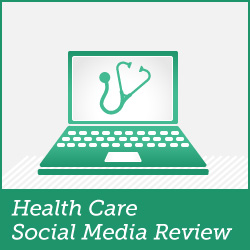 January is the month of new resolutions yet a study out of the University of Scranton finds that only 8% of us actually achieve these resolutions. At the same time, about 1 in 3 Americans plan on buying a new fitness tech in 2013. Yet as the image above reminds us, at varying degrees, health is more than a click of a button.
On Wednesday, Jan. 16, SocialButterfly will host the HealthCare Social Media Review, the peer reviewed blog carnival for everyone interested in health care social media. Given the importance of prevention amidst a nation with an expanding waistline, this edition will focus on how social media collides with health promotion, prevention and wellness.
You may know of a number of initiatives using social media for health promotion. Submit them. You may have supportive research. Share it. You may think it's all a bunch of hooey. We want to hear your opinion.
Email a link to your post or posts (no more than two submissions per author) by 5pm (ET) on Jan. 15.
Format your submission email as follows:
Email Subject Line: HealthCare SocialMedia Review
Blog Title:
Blog URL:
Post Headline:
Permanent link to post:
Your Name: Name, Username, Nickname, or Pseudonym
Description or brief excerpt:
Learn more about the HCSM Review by visiting HealthWorks Collective or follow @healthworkscollectiv on Twitter. I look forward to your posts!