Behind the Scenes of NBC's Parenthood Project
In the midst of reflecting on Pepsi Refresh, Disney and other CSR efforts, I received an email about another project with a social message–NBC's Parenthood Project that worked in conjunction with the Boys and Girls Club. Curious–I responded to the email asking if I could interview someone behind the campaign to learn about the inter-workings of business doing good.
Enter Cathy Goldman, NBC Vice President, Promotion & Brand Management. Cathy was kind enough to answer my questions. And while NBC didn't answer all my questions, I find the answers fascinating. What I take away from both the Web site and Cathy's answers is how integrated each facet of the project is–from the TV series, to leveraging social media through video, photos and text, to the universal concept of parenthood–all the way to identifying a non-profit that has a strong family strengthening initiative–it's smart. Read for yourself and share your thoughts below: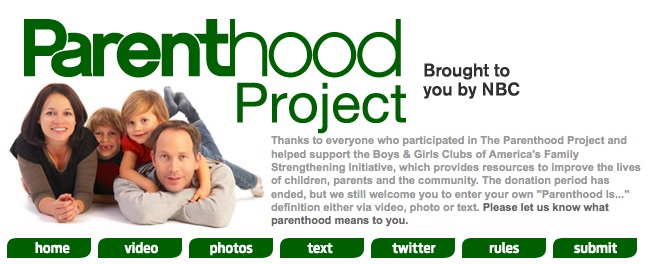 SB:  Where did the idea for the Parenthood Project originate and how did it evolve?
CG:  Using our campaign strategy as inspiration, we wanted to give viewers an opportunity to participate in the dialogue that we began about what parenthood means to them. Considering this very relate-able topic, we thought tying in a charity component would resonate strongly not only with consumers but with talent. The talent participation has exceeded our expectations as they were all willing to share in the cause.
SB:  What are the goals of the Parenthood Project–What is NBC hoping to achieve?
CG:  There were a few goals, including: to elevate the conversation on what parenthood means; establish a dialogue with our viewers to make them feel involved with this highly relate-able topic; raise funds for a valuable charity that closely aligns with the show content, and tap into our talent to raise this topic into cultural relevance.
SB:  How did the Boys and Girls Club get involved?
CG:  We wanted to partner with a charity that had a national footprint, and after doing some research, we found that The Boys and Girls Club had a powerful family program (Family Strengthening Initiative) that provides viable resources for families
SB:  How did you decide to involve people through social media–and how did you choose which social media to include?
CG:  In all of our marketing communications, we look for ways to utilize and leverage social media tools. Since the main underpinnings of social media are meant to break down walls between people and their circle of friends and influencers, we concluded it was an important tactic that would elevate and amplify the messaging of this important project.
SB:  More and more, we're seeing an increase in social media for social good–especially in the arena of corporate social responsibility. Why do you think that is? How can we continue to improve upon past success?
CG:  The heart of social media is the idea that people have their own online communities–and what better way to maximize those new connections for people than to incorporate a pro-social message.